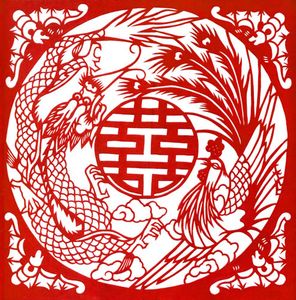 Please click on the image for a larger picture.

Chinese Paper Cuts- Dragon & Phoenix

Size: 8.75" x 8.75" (22.5cm x 22.5cm)

Out of stock

The Chinese character shown on this paper cuts means "Double Happiness". The Symbols shown on the four corners mean "Good Fortune".

The dragon represents the male, the yang, and the phoenix represents the female, the yin. The dragon and phoenix together symbolize harmony and the happiness of marriage. The pattern of the dragon and phoenix also means auspiciousness and good luck.

We recommend the Chinese Paper Cuts be framed.

100% Handcrafted.