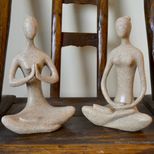 Please click on the image for a larger picture.

Sandstone Yoga Statue – Meditative Prayer #6

Dimensions: 8.7"H

Our Yoga Goddess statuary is one of our most popular assortments. She is graceful and strong - and a perfect addition to your home and yoga room! The sandstone material creates a natural and sophisticated appearance.