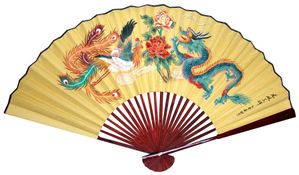 Please click on the image for a larger picture.

Large Chinese Wall Fan - Dragon & Phoenix #1

39" (99cm)

Out of stock

Paper / Wood

The dragon represents the male, the yang, and the phoenix represents the female, the yin. The dragon and phoenix together symbolize harmony and the happiness of marriage. The pattern of the dragon and phoenix also means auspiciousness and good luck.

100% Handcrafted Chinese wall fan.