You are here: Home > Various Chinese Crafts > Chinese Tea Sets, Teapots, Tea Cups & Tea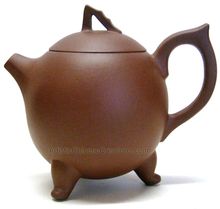 Chinese tea culture refers to the methods of preparation of tea, the equipment used to make tea and the occasions in which tea is consumed in China.Tea culture in China differs from that of Europe, Britain or Japan in such things as preparation methods, tasting methods and the occasions for which it is consumed. Even now, in both casual and formal Chinese occasions, tea is consumed regularly. In addition to being a drink, Chinese tea is used in traditional Chinese medicine and in Chinese cuisine.

Yixing pottery refers to the unique traditional stoneware made in Yixing, China. They are made from the reddish clay (zisha) found in Yixing area, usually unglazed to display the beauty of the shiny color of the clay. Most of them are teawares (called zisha teapots). More Info about Chinese zisha teaware

Please click on each category below for more offerings including Chinese tea sets, Chinese teapots, Chinese tea cups and mugs, Chinese tea and Chinese tea canisters.





---
Chinese Tea Sets & Tea > Chinese Tea Sets & Teapots | Chinese Porcelain Tea Cups with Lid & Saucer | Chinese Tea Cups, Mugs & Gift Sets | Chinese Tea Canisters | Small Chinese Porcelain Teacups | Chinese Tea

Chinese Tea Cups, Mugs & Gift Sets > Chinese Porcelain Tea Cups | Chinese Porcelain Tea Mugs | Chinese Glass Tea Mug Gift Sets | Tea for Two Gift Sets

Various Chinese Crafts > Chinese Snuff Bottles | Chinese Fans | Chinese Embroidery | Chinese Clay Crafts | Chinese Terracotta Army | Chinese Tea Sets & Chinese Tea | Chinese Bookmarks | Chinese Perfume Pouches | Chinese Miniature Furniture | Tri-colored glazed pottery of the Tang Dynasty | Chinese Pottery & Chinese Porcelain | Chinese Coins | Miniature Chinese Musical Instrument | Old Chinese Posters | Chinese Kites | Chinese Wood Carving | Chinese Bronze & Brass Ware | Chinese Incense & Incense Burners | Auspicious Chinese Figurines

Featured Products: Chinese craft, Chinese crafts, Chinese culture, Chinese cultural products, ancient Chinese culture, Chinese art & culture, Chinese fans, Chinese fan, Chinese paper fans, Chinese paper fan, Chinese silk fans, Chinese silk fan, Chinese decorative fans, Chinese decorative fan, Chinese wall fan, Chinese wall fans, Chinese embroidery, framed Chinese embroidery, framed Chinese art, Chinese clay craft, Chinese clay crafts, folk clay toy, folk clay toys, Chinese terracotta army, Chinese terracotta warrior, terracotta warriors, Chinese terracotta warriors, Chinese terracotta warrior, Chinese terracotta army of Qin dynasty, terracotta army of Qin dynasty, terracotta warriors of Qin dynasty, Chinese bronze ware, Chinese tea sets, Chinese tea set, Chinese tea, Chinese yixing tea set, Chinese yixing tea sets, antique tea set, antique tea sets, Chinese teapot, Chinese teapots, china tea set, china tea sets, Chinese teaware, Chinese zisha teapots, Chinese pottery, Chinese porcelain, Chinese Coins, Ancient Chinese Coins, Old Chinese Coins, Antique Chinese Coin, Chinese Feng Shui Coins, Chinese Good Luck Coin, chinese kites, chinese wood carving, Chinese Miniature Furniture, Bamboo Miniature Furniture, chinese doll furniture house miniature, Chinese Furniture, Wooden miniature furniture, Bamboo miniature furniture, Chinese musical instrument, Chinese pen container, Chinese pen containers, hand painted Chinese pen containers, Chinese bookmark, Chinese bookmarks, dragon & phoenix bookmark, cloisonne bookmarks, Chinese perfume pouch, Chinese pouches, Chinese tie dye, traditional Chinese tie dye, tie dye art, tie dye product, tie dye products, tie dye wall hanging, tie dye wall hangings, tie dye, chinese tie dye wall hanging, Chinese-folk-art, Chinese-crafts, Chinese-handicrafts, Chinese-arts-and-crafts, Chinese-embroidery


---
Testimonials

* The purchase was perfect in every regard. It got here faster than I anticipated. I would definitely shop there again if the Asian mood strikes me :-).

Happy Customer - Laura Henderson (Nipomo CA, US)

* I love your teapots and treasure them. They also make special gifts. I am very happy with them.
I love your work.

Best Regards,
Sylvia MacDonald (US Customer)