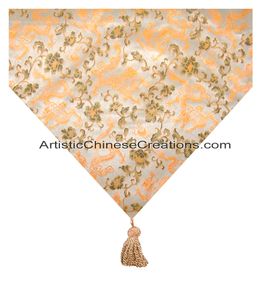 Please click on the image for a larger picture.

Chinese Silk Table Runner - Dragons #18

Size: approx. 75" x 13" (190cm x 33cm)
Fabric: Silk Brocade

This beautiful table runner is decorated with traditional Chinese dragon pattern.

Chinese dragon is considered as one of the foremost auspicious symbols of power, good luck and good fortune, abundance and prosperity, attainment of a great success, protection from unfavorable spirits and events in life, wisdom and courage, loyalty, strong self-esteem, happy marriage and lasting love.

Great Chinese home decor and housewarming gifts.