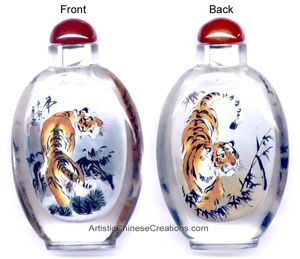 Please click on the image for a larger picture.

Chinese Inside Painted Snuff Bottle - Tiger #63

Size: 3 3/4" x 2 3/8" (9.5cm x 6cm)

Sold

This Chinese snuff bottle is painted with traditional Chinese tiger on both sides.

In the Chinese culture, tiger is a symbol of courage, honor, strength and power.

100% Hand painted Chinese snuff bottle.