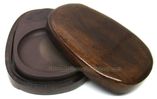 Please click on the image for a larger picture.

Carved Chinese Duan Ink Stone in Wooden Case - Landscape #3

Ink Stone Size: 6"x 4.25" x 0.75"

Sold

Famous Chinese Duan ink stone carved with landscape design, is displayed in a fitted wooden box.

To make ink from the ink stick, it has to be ground against the moistened ink stone surface in a circular manner. Depending on the desire for color intensity, the artist will dip the brush upon different areas of the stone. The more water, the less intense the color of the black ink.