You are here: Home > Chinese Calligraphy > Chinese Calligraphy - Ready for Framing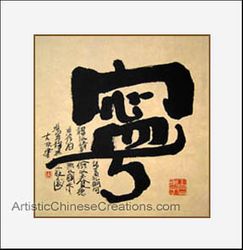 Birth, development, maturity and flourish of Chinese Calligraphy are always closely related to the change of character. For thousands of years' history of Chinese Calligraphy, inscriptions on bones or tortoise shells of the Shang Dynasty, big seal character, lesser seal character, ordered running script, official script, regular script, running script and grass script are all the creations breaking a new way in chorography. In addition, present style of Chinese Calligraphy is to shape rhythm image with lines. The lines are either strong or soft. The strokes are various. The horizontal and vertical strokes are bend or extensive.

The tip of writing is either dark or clear. Using brush can be slow or quick. Lifting and pressing brush can be both light and weight. The structure is either open or close. The posture is both motive and quiet. The orderly ways are both proportional and new. All the above skills can produce various rhythms. The lines of regular script can make people feel grant and steady. Seal character and official script are both simple and kind. The lines of running script and grass script are much changeable and have thousands of bearings and can show the line's expressive force of rich rhythms and tunes. More Info about Chinese Calligraphy

Please click on the below thumbnails for more Chinese calligraphy artworks including Chinese good fortune calligraphy symbols, Chinese longevity calligraphy symbols, double happiness calligraphy symbols, Chinese zodiac symbols and much more...





---
Chinese Calligraphy > Chinese Calligraphy - Ready for Framing | Chinese Calligraphy - Scrolls | Chinese Calligraphy - Framed Art | Chinese Calligraphy Sets | Chinese Calligraphy - Wall Plaques | Chinese Name Translation | Customized Chinese Calligraphy | Chinese Seal Carving - Seal Stones / Custom Seal Carving & Red Ink Pads | Chinese Seal Carving - Seal Stamps | Chinese Calligraphy Wall Decor | Chinese Calligraphy Brushes & Brush Stands | Chinese Calligraphy Ink & Ink Sticks | Chinese Ink Stones | Chinese Calligraphy Books | Learn Chinese Calligraphy | Blank Chinese Calligraphy Wall Scrolls | Chinese Calligraphy Mounting Services | Chinese Calligraphy - Wholesale | Chinese Rice Paper | Chinese Seal Carving Tools | Custom Framing

Featured Products: Chinese calligraphy, calligraphy art, Chinese calligraphy art, calligraphy wall hanging, calligraphy wall hangings, calligraphy scroll, calligraphy scrolls, Chinese calligraphy scrolls, Chinese calligraphy scroll, traditional Chinese calligraphy, Chinese traditional calligraphy, Chinese calligraphy symbol, Chinese calligraphy symbols, Chinese brush calligraphy, Chinese name translation, Chinese name translations, Chinese name symbol, Chinese name symbols, Chinese character, Chinese characters, Chinese word, Chinese words, Chinese calligraphy set, Chinese calligraphy sets, Chinese calligraphy tools, framed Chinese calligraphy, Chinese framed calligraphy, Chinese calligraphy supplies, Chinese calligraphy font, Chinese calligraphy fonts, Chinese calligraphy tattoos, Chinese calligraphy alphabet, ancient Chinese calligraphy, history of Chinese calligraphy, customized Chinese calligraphy, custom Chinese calligraphy, custom calligraphy, personalized Chinese calligraphy, Chinese-calligraphy, Chinese-calligraphy-art, Chinese-calligraphy-scrolls, Chinese-calligraphy-wall-hangings, Chinese-calligraphy-sets, Chinese-name-translation, Custom-Chinese-calligraphy, Chinese rice paper, Chinese zodiac calligraphy, Chinese zodiac sign, Chinese zodiac signs, Chinese zodiac symbol, Chinese zodiac symbols, Chinese zodiac character, Chinese zodiac characters, Chinese zodiac, Chinese zodiac art, Chinese dragon art, Chinese dragon calligraphy, Chinese dragon symbol, Chinese wall plaque, Chinese wall plaques, Chinese seal carving, Chinese seal carvings, Chinese signature stamp, Chinese stamps, Chinese chop, Chinese chops, Chinese calligraphy brushes, calligraphy ink, custom framing, wholesale Chinese calligraphy, blank Chinese wall scrolls, Chinese calligraphy mounting services, Chinese calligraphy wholesale, wholesale Chinese art


---

Testimonials

* Hello there, this is simply an e-mail to say thank-you. It is a long time since I last experienced 'personal service' on the internet. You are thousands of miles away from me, here in the UK, you send me an order from the US and from China and they both arrive together - and all the time it feels as if I am dealing with you face to face in a store. I cannot recommend you highly enough for a fast, fun and efficient shopping service. I shall be back.

Yours in wonder, Tim Woolmington (UK customer)

* Just a note to tell u that my order arrived Mon. I was
pleasantly surprised that u were able to deliver it so
promptly. The items were wonderful. Thanx again for ur
prompt attn to this order.

gail fletcher (chicago IL)