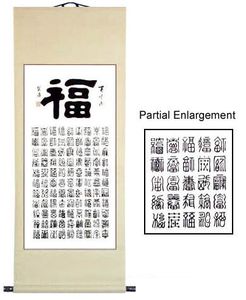 Please click on the image for a larger picture.

Chinese Calligraphy Scroll - 100 Good Fortunes #111

Scroll Size: 60.5" x 21"
(153cm x 53cm)

You will find that 100 different expression of the word "Good Fortune" which are from different Dynasties shown on this calligraphy wall hanging.

This calligraphy artwork is mounted on silk brocade. It could be hung on the wall directly.

100% Hand written. Original Chinese Calligraphy.

Artist: Wu Jun Sheng.